Engineered Timber Flooring and Sydney Installation Services
Do you want solid timber flooring without the price tag? Then engineered timber flooring is the perfect solution. At Homelegend Rugs and Flooring we offer a bespoke collection of engineered timber flooring and expert installation services across Sydney such as Richmond, Windsor and all surrounding areas.
Whether you want to add a classic feel to your home with engineered timber flooring or wish to upgrade your existing floors to match the look of solid timber, explore our range today. You can visit our showroom or get in touch with our team to discuss your ideas and together we can find the perfect flooring solution for your unique requirements.

Engineered Timber Flooring
With its natural beauty and timeless look, no other option can match the appeal of timber flooring.

Laminate flooring gives you the look of wood or stone, and is scratch-resistant without waxing or refinishing.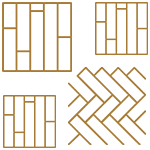 Hybrid and Looselay Vinyl Flooring
Vinyl flooring is some of the most durable, versatile and affordable flooring materials available.

Strandwoven and Engineered Bamboo
As an affordable and sustainable alternative to timber, it's easy to see the popularity of strandwoven and engineered bamboo.
Why Choose Engineered Timber Flooring for Your Sydney Home?
Engineered timber flooring has a top layer of natural hardwood beneath multiple layers of protective coating, which not only gives the boards durability but the same opulent look and feel of solid timber flooring. As a hard-wearing product, engineered timber flooring is a great option for busy homes with lots of people moving around, and in high traffic areas such as the kitchen, living room and hallways.
A wonderful benefit of engineered timber flooring is its ability to withstand a range of conditions that might eventually warp, move or fade solid timber flooring. If you are looking for a product to bring the aesthetic of your home together, while remaining durable, this flooring option may be the best choice for your needs.
Learn More About Engineered Timber Flooring and Our Installation Process
Whether new floorboards, engineered timber flooring, vinyl flooring, laminate flooring, carpets or rugs are the main agenda for your next home upgrade, Homelegend Rugs and Flooring are happy to assist. Come visit our showroom in Sydney and chat to us about the flooring needs of your property in Richmond, Windsor and beyond.