Our Sydney Range of Floating Floors
Do you want to add a touch of opulence and practicality to your home with floorboards? Homelegend Rugs and Flooring have a stunning range of floating floorboards to help you tie the aesthetic of your property together, and create something truly special.
Offering our floating floors and installation services across Sydney, including Richmond, Windsor and beyond, we have the perfect floorboards for your specific taste and style.
Browse our collection and see what sparks inspiration, then chat to our team to discuss your needs.

Engineered Timber Flooring
With its natural beauty and timeless look, no other option can match the appeal of timber flooring.

Laminate flooring gives you the look of wood or stone, and is scratch-resistant without waxing or refinishing.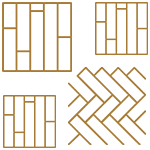 Hybrid and Looselay Vinyl Flooring
Vinyl flooring is some of the most durable, versatile and affordable flooring materials available.

Strandwoven and Engineered Bamboo
As an affordable and sustainable alternative to timber, it's easy to see the popularity of strandwoven and engineered bamboo.
What Are Floating Floors?
Floating floors is actually the method of installing the flooring, not a product itself. Floating floorboards do not attach the subfloor beneath them, instead individual planks are attached to one another.
Floating floorboards can be laid throughout anywhere in the house, from the living room to the kid's bedroom. They are the perfect addition to high traffic areas and can change the look of your home instantly. You can dress the floors up or down as much as you like with the addition of rugs and runners to add warmth and personality.
The floorboards are a cost-effective way to get the look you want in your home, and with their renowned durability, flexibility and easy installation process, they may just be the best option for you. Our team are more than happy to discuss our range of floating floors and expert installation services with you at any time.
Learn More About our Floating Floors and Services in Sydney
Contact Homelegend Rugs and Flooring for more information about floating floors and how they can suit your home. You can also visit our showroom and see the quality range of carpet, rugs and timber, vinyl and laminate flooring options we have available for those across Sydney CBD, Richmond, Windsor and beyond.