Our Sydney Range of Vinyl, Laminate and Timber Flooring
Water Resistant Hardwood Floorboards Sydney
Looking to add those warm wood tones which make a house a home? Browse our collection at Homelegend Rugs and Flooring for the full range of flooring options, from timber flooring to vinyl and laminate.
Whether you want to add a little more protection to your house with water resistant and waterproof flooring in your Richmond home, or are searching for the perfect hardwood floorboards to complement your Windsor abode, we have exactly what you need in our Sydney showroom.

Engineered Timber Flooring
With its natural beauty and timeless look, no other option can match the appeal of timber flooring.

Laminate flooring gives you the look of wood or stone, and is scratch-resistant without waxing or refinishing.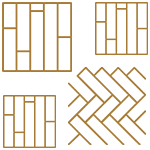 Hybrid and Looselay Vinyl Flooring
Vinyl flooring is some of the most durable, versatile and affordable flooring materials available.

Strandwoven and Engineered Bamboo
As an affordable and sustainable alternative to timber, it's easy to see the popularity of strandwoven and engineered bamboo.
Learn More About our Flooring Options and Visit Our Showroom in Sydney
Offering our quality products all across Sydney, including Windsor, Richmond and surrounding areas, you can find the perfect flooring solution for your specific taste and style. From our stunning collection of hardwood floorboards and water resistant and waterproof floors, to our range of engineered timber flooring, vinyl and laminate options – there is a floor for every home.
Have any further questions about the design, make, cleaning or maintenance of your floorboards? Contact our team or come visit our showroom in Sydney where you can see your flooring options come to life.
Hardwood Floorboards and Flooring Installation Services
Once you have decided on the perfect hardwood floors and water resistant and waterproof flooring designs for your home, you need someone to install them, right? Well you are in luck with our talented team. At Homelegend Rugs and Flooring we offer a full service.
What's the difference that professional flooring installers can make for your home? We can install floating floor systems, with a padded layer sitting between the floorboards and the subfloor.
We'll make sure the underlayer is of quality make and fit, to improve any hollow sounds after the installation. Our flooring installations also have a slight give underfoot, for comfort and better protection of your knee joints.