Laminate Flooring for Your Sydney Home
Looking for a durable, hardwearing flooring option for your home or property? Waterproof laminate flooring may be just what you need, and at Homelegend Rugs and Flooring we have a great range for you to choose from.
No matter where you are in Sydney, from Windsor and Richmond to all surrounding areas, we offer our collection and expert installation services to all residents. Visit our showroom and see for yourself the stylish flooring options we have available.
Please feel free to contact our team to discuss your laminate flooring needs and know more about our products and services.

Engineered Timber Flooring
With its natural beauty and timeless look, no other option can match the appeal of timber flooring.

Laminate flooring gives you the look of wood or stone, and is scratch-resistant without waxing or refinishing.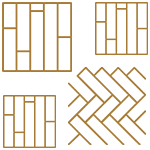 Hybrid and Looselay Vinyl Flooring
Vinyl flooring is some of the most durable, versatile and affordable flooring materials available.

Strandwoven and Engineered Bamboo
As an affordable and sustainable alternative to timber, it's easy to see the popularity of strandwoven and engineered bamboo.
The Benefits of Waterproof Laminate Flooring
Laminate flooring consists of several core layers of hardwearing, high-density fibreboard with a woodgrain layer and numerous coats of clear, durable and protective resins. With a click-together tongue, laminate floorboards are simple and easy to install and fashion like floating flooring. They are a cost-effective option for anyone who wants to add style to their home without adding real timber floors.
With durable properties, waterproof laminate flooring is easy to clean, low maintenance and looks great in any area of your house. Be inspired by the natural beauty of timber flooring and talk to our team today about the floorboards that are right for you.
Let Our Sydney Team Install Your Laminate Flooring
When you have chosen the right flooring for your property, you need to ensure that it is installed correctly. Our flooring specialists can install any of our carpets, rugs and flooring options and provide a professional touch.  You will notice the difference in quality when you work with our team at Homelegend Rugs and Flooring.
To know more about waterproof laminate flooring, vinyl floors, engineered timber flooring or any other product visit our Sydney showroom. There you will be able to see the great range we have on offer for your home in Richmond, Windsor or any of the surrounding areas.