Our Sydney Collection of Vinyl Flooring
Vinyl is becoming more and more popular and enjoying a reappearance in many homes across Sydney. If you want to stylise your house, then flooring is a great way to do so and with Homelegend Rugs and Flooring we can help you find the best vinyl floors for you.
Offering our products and installations services across the city, we can add functionality and personality to your home in Richmond, Windsor and surrounds, with quality vinyl flooring. Contact our team to know more and browse our selection of rugs, carpets, floorboards and more to spark some inspiration.

Engineered Timber Flooring
With its natural beauty and timeless look, no other option can match the appeal of timber flooring.

Laminate flooring gives you the look of wood or stone, and is scratch-resistant without waxing or refinishing.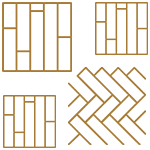 Hybrid and Looselay Vinyl Flooring
Vinyl flooring is some of the most durable, versatile and affordable flooring materials available.

Strandwoven and Engineered Bamboo
As an affordable and sustainable alternative to timber, it's easy to see the popularity of strandwoven and engineered bamboo.
What is Vinyl Flooring?
Luxury vinyl flooring is made from synthetic materials with a tough wear layer for protection and durability. Vinyl planks are a simple and great way to get the floorboards aesthetic you want at an affordable price compared to other flooring such as timber or hardwood. It's a great modern solution for all types of homes, and with its easy installation process, you can have beautiful looking floors in no time.
In similar fashion to laminate flooring, vinyl is durable and resilient, and is highly popular in family homes where there is heavy traffic and lots of feet running about. Thanks to its realistic timber-look finish, vinyl has enjoyed a successful re-emergence back into the contemporary world.
If you would like a modern floor that is perfect for any household, our flooring experts can help you find the best vinyl flooring for you, and professionally install them for a hassle-free experience.
Visit Our Sydney Showroom and See Our Vinyl Flooring Collection
To know more about our carpets, rugs and flooring options, such as vinyl, laminate and engineered timber flooring, come visit our Sydney showroom and chat to our team. You can also call us anytime to discuss the specific requirements of your home, with our services expanding all across the city and beyond including Richmond, Windsor and surrounds.